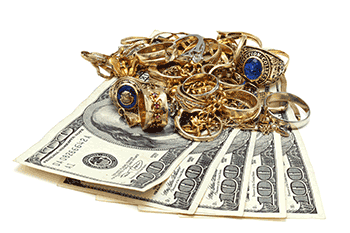 Many people have scrap gold and unwanted jewelry stashed away in their homes, with little intention of either making use of it or getting rid of it. But that's likely because they haven't yet
heard about Gold & Coin Mart, the number one provider of cash for gold in Georgetown, TX. Since 2012, we've been taking unwanted gold off our customers' hands and giving them cash in return, and judging by the amount of business we do, they couldn't be happier with our services. Here are some of the benefits of bringing your unwanted and scrap gold to Gold & Coin Mart:
Cash in hand today: Some gold dealers require long waits and tedious procedures before they'll pay you for your gold. But not Gold & Coin Mart! We'll give you cash for your gold today, so you can rest easy knowing your time will be well spent. And thanks to our knowledgeable team, you can be assured that your gold will be accurately and fairly appraised.
Fair and upfront prices: Fairness and transparency is a big part of how we do business at Gold & Coin Mart. The price we offer for your gold will be directly related to its weight, not calculated in an unclear or questionable fashion. We'll always be upfront about our prices and clear in our communication.
Gold buying and more: Gold & Coin Mart is about more than just buying gold. We also buy jewelry, diamonds, stamps, coins and more. If you have old or collectible coins or jewelry, we would love the chance to appraise and make an offer.
Gold Buyers
Gold & Coin Mart is proud to be regarded as the premier gold buyers in Georgetown, TX, serving the area with first-rate customer care and knowledgeable services. Give us a call at (512) 363-9270 to learn more about our gold buying services and how you can receive cash today for your gold. We look forward to serving you!